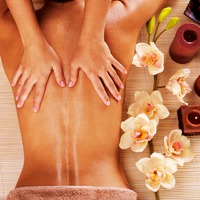 I am a woman therapist certified in BIORESONANCE/BIOFEEDBACK, therapeutical massage, reflexology, lymph drainage, EFT -emotional release, yoga and Ayurveda training.
(Only English speakers for the moment.)
Whether you are looking for a relaxing massage, have sore muscles, an injury or sports issue, or you like to maintain your body and health in top shape, we are here to help and inspire you.
Our team of professional and experienced therapists - with more than 10 years of experience - will carefully customize a treatment to best suit your needs. We use only organic coconut oil, essential oils for aroma therapy and music therapy(solfeggio tones, brain waves and special music).
Healing energy provides an alternative and complementary way for people who prefer to take a holistic approach to their health and wellness.
We are certified therapists in therapeutic massage, lymph drainage, reflexology, energetic healing, yoga, ayurveda-indian medicine, emotional healing, Bioresonance feedback/scanning.